In a 2016 poll, one in ten Britons claimed to have experienced the presence of an angel, while one in three remain convinced that they have a guardian angel.
Angels takes a modern look at what was once referred to as 'angelology', but which has its real roots in Judaism and in the mighty, sometimes comforting, sometimes terrifying angels who inhabit the books of Daniel, Tobit and Enoch in post-Babylonian exile literature.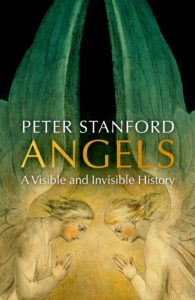 ---
Peter Stanford's previous investigations into the history, theology, enduring appeal and cultural significance of religious ideas include: What we Talk about when we Talk about Faith; Martin Luther: Catholic Dissident; Judas: The Troubling History of the Renegade Apostle; The Devil – A Biography; Heaven – A Traveller's Guide to the Undiscovered Country; and The She-Pope, an investigation of the Pope Joan legend. His other books include biographies of Bronwen Astor, Lord Longford and the Poet Laureate, C Day-Lewis, plus the polemical Catholics and Sex that became an award-winning Channel 4 series in 1992. He is a senior features writer at the Daily and Sunday Telegraph titles, and contributes to the Independent, the Observer, the Daily Mail and the Catholic weekly, the Tablet, where he is a columnist. He has presented programmes on BBC 1, Channel 4 and Channel 5, as well as BBC Radios 2 and 4 and the BBC World Service.
Baroness Julia Neuberger DBE is Senior Rabbi of West London Synagogue and was the second woman rabbi in the UK. She is a writer, broadcaster and crossbench peer.
This event has live speech-to-text subtitles provided by Stagetext.