Munich, November 1918: in the final days of WWI, revolutionaries opened the doors of military prisons, occupied official buildings and overthrew the monarchy. At the head of the newly declared Free State of Bavaria was journalist and theatre critic, Kurt Eisner. He was joined by the luminaries of German cultural history – Thomas Mann, Ernst Toller, and Rainer Maria Rilke. Yet the fantasy would not last: in February 1919, Eisner was assassinated and the dream shattered. But while it survived, it was the writers, poets, playwrights and intellectuals who led the way, imagining new ideas of shaping the world.
Writer Volker Weidermann is in conversation with Rebecca Abrams.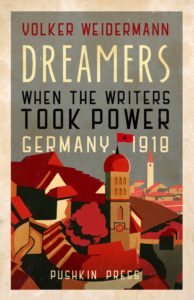 ---
Volker Weidermann is a writer and literary critic. He is the cultural editor of Der Spiegel. Dreamers: When the Writers Took Power, Germany 1918 is his latest book.
Rebecca Abrams is an award-winning author of fiction and non-fiction, regular literary critic for The Financial Times and former columnist for The Daily Telegraph. She is Writer-in-Residence at Brasenose College, Oxford.
Supported by the Embassy of the Federal Republic of Germany London.