In Apartheid South Africa, many desperate parents fought to rescue their children, arrested for so-called 'anti-apartheid' activities, from the state's clutches. Many of these children were tortured, some were murdered; some were as young as nine years old. The Knock on the Door tells the story of the parents who fought back, and of how the anti-detention movement became part of the mass uprising that brought down apartheid.
John Simpson chairs a panel with author Terry Shakinovsky, journalist Jonathan Rosenthal, and mother and son Audrey Coleman and Keith Coleman, who experienced these dreadful crimes.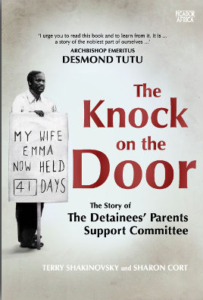 ---
Audrey Coleman became an active member of the of the Detainees Parents Support Committee (DPSC) when her sons were arrested. She travelled the world publicising detention issues, particularly the detention of children. In 1997 she testified to the Truth and Reconciliation Commission.
Keith Coleman is an author and businessman. In 1980 Keith founded and co-edited SASPU National, an anti-apartheid newspaper established under the auspices of the South African Students Press Union. At its peak its readership was over 250,000. Keith was the founder trustee of the Nelson Mandela Legacy Trust (established 2006) and remains on the Board. The Trust has raised over £15 million for Nelson Mandela's three charities: the Nelson Mandela Children's Fund, the Mandela Foundation and the Mandela Rhodes Foundation.
Jonathan Rosenthal is The Economist's London-based Africa Editor. Previously he worked at Bloomberg News in London and Johannesburg and was the mining editor of Business Report, a South African daily newspaper. Previous roles at The Economist have included international banking editor, European business and finance correspondent, based in Berlin, and British business correspondent in London. In 2008, Jonathan won the Feature of the Year award at the WorkWorld Media Awards, and in 2009 was named Reporter of the Year. He has appeared on television and radio including BBC News 24, Sky and on ITV's Tonight programme.
Terry Shakinovsky is a journalist who has been deployed across the world. She holds a postgraduate degree in History. A former student and United Democratic Front (UDF) activist who worked with the Detainees' Parents Support Committee (DPSC), she is now the publications coordinator at the Mapungubwe Institute for Strategic Reflection in Johannesburg.
BBC World Affairs Editor, John Simpson CBE is a journalist, broadcaster, columnist and accomplished author. John joined the BBC in 1966 and celebrated his 50th Anniversary in 2016. John has reported from 140 countries and interviewed around 200 world leaders. He has covered forty-six wars on four continents, not to mention the trial and execution of Saddam Hussein in Iraq and of Nicolae Ceausescu in Romania. John has received most of the broadcasting industry's main awards, including RTS journalist of the year (twice), three BAFTAs, an Emmy, Monte-Carlo TV Festival's Golden Nymph, and the Bayeux award for war reporting.
In Association with The Jewish Council for Racial Equality (JCORE).