Dorothy Parker, Hannah Arendt, Susan Sontag and Nora Ephron are just some of the women whose lives intertwined as they cut through 20th century cultural and intellectual life in America, arguing as fervently with each other as they did with the men who belittled their work. They are united by their 'sharpness', a precision of thought and wit, a claiming of power through their writing.
Michelle Dean writes of these women and their world, where Manhattan cocktail parties, fuelled by lethal quantities of alcohol and gossip, often led to high-stake slanging matches in print.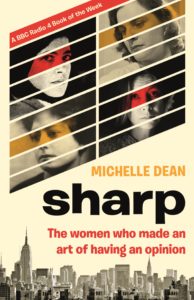 ---
Michelle Dean is a journalist, critic and the recipient of the National Book Critics Circle's 2016 Nona Balakian Citation for Excellence in Reviewing. A contributing editor at The New Republic, she has written for The New Yorker, Nation, New York Times Magazine, Slate, New York Magazine, Elle and BuzzFeed. She lives in New York City.
Rachel Cooke is an award-winning journalist. She is a writer and columnist at The Observer, and is the television critic of The New Statesman. Her essays have been broadcast on Radio 3. Her book, Her Brilliant Career: Ten Extraordinary Women of the Fifties, is published by Virago.