'The best comedian of his generation' GQ
'Alternately very silly and oddly revealing' The Guardian
'Stimulating and exhilarating… Utterly hilarious' ★★★★★ Chortle
'Jonathan Ross has a funny voice. And yes, Parky has a wise, crinkly face. But, for us, Richard Herring's comedian-on-comedian chat action takes the crown… It's made us laugh more than anything else on the internet.' Time Out
---
Richard Herring's interview podcast is usually recorded in London's glittering West End at the Leicester Square Theatre, but now it's going on the road.
Join the 'Podfather' (Guardian) and 'King of the Internet' (Time Out) as he chats with Russell Howard, one of the UK's most successful comedians.
RHLSTP previous guests include Stephen Fry, Dawn French, Sarah Millican, Steve Coogan and Bob Mortimer. You can listen to all the 200+ previous episodes on Acast and iTunes. But it's much more fun to see it live and hear all the bits that are too libellous and controversial to podcast.
Winner of Bronze Award for Best Comedy at the 2013 Sony Radio Academy Awards and the Chortle Internet Award 2012, 2013, 2014 and 2018.
---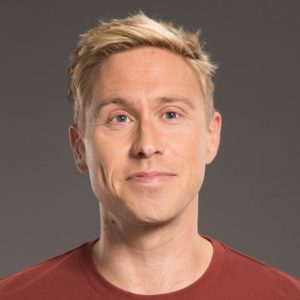 'Energetic, uncynical and, most importantly, very funny.' The Times
'Probably the best of a new generation of comics. His mind is as sharp as a witch's nose and gagas flow from him with the ease and majesty of the River Nile' Time Out
Russell Howard is one of the UK's most successful comedians, with over 3.4 million Facebook fans and 1.3 million Twitter followers. Russell's 2017 tour, Round the World, was his biggest tour to date with performances spanning 11 countries across 3 continents. With 10 consecutive nights at the Royal Albert Hall, his tour breaks the venue's record previously held by Frank Sinatra and Barry Manilow with 8 shows in a row. The success of this tour led to its release as a Netflix Special entitled Recalibrate, which is available to watch now.
Following his world tour, Russell hosted a new comedy entertainment programme for Sky 1, The Russell Howard Hour. Over the period from 2009 to 2015, Russell wrote and starred in 96 episodes of Russell Howard's Good News, BBC Three's best-performing entertainment show. Its success led to a new home on BBC Two for its ninth and tenth seasons, where it averaged over 3 million viewers per episode. Multiple segments of the show have gone viral, amassing over 32 million views.
Last year, Russell took his mum on an eye-opening trip around the USA in the travelogue series Russell Howard & Mum: USA Road Trip for Comedy Central UK, which became the channel's highest rating original commission. Season 2 is currently airing and sees Russell and his mum meeting more of the maddest, happiest, and weirdest people the USA has to offer.