Following his sold-out show at Kings Place in 2019, internationally-acclaimed Cuban violinist Omar Puente returns to Kings Place with a new show performing with Alex Wilson, and Classico Latino, featuring special guest Colombian superstar Fruko.
---
After establishing himself on his native Cuban soil, world-class violinist Omar Puente moved to the UK and has since performed around the globe, playing to audiences in Europe, the Middle and Far East, USA and Africa. Throughout his career he has supported and shared the stage with a whole host of other stars such as Tito Puente, John Williams, Nigel Kennedy, Courtney Pine and Wynton Marsalis to name a few, winning numerous accolades along the way.
For this very special occasion Omar performs with both of his current projects – Latin soul/classical fusion outfit Classico Latino, featuring Colombian superstar Fruko, and recently formed dynamic jazz quartet with pianist and long-time collaborator Alex Wilson.
'Omar Puente's contribution to 20th and 21st century violin playing has now become legendary. His generous nature, his commitment to good music, his enjoyment of life and his respect for his colleagues are all characteristics which make him a true violin great'
Nigel Kennedy

Classico Latino featuring Fruko
British ensemble Classico Latino break new ground in their trademark fusion of Latin soul with classical instruments, collaborating in an innovative new project with salsa legend Fruko for their new album, Salsa Classics.
Together, they present the fruits of an unprecedented cross-cultural experiment, offering a fresh interpretation of two very different traditions. This event also showcases legendary jazz violinist Omar Puente, breathing new life into a selection of iconic salsa songs arranged for the first time for classical strings by cellist Graham Walker.
Fruko's unique salsa style and Classico Latino's smooth sound and technical flair blend here in a genuinely unique experience, which will inspire musicians, dancers and music- lovers all over the world.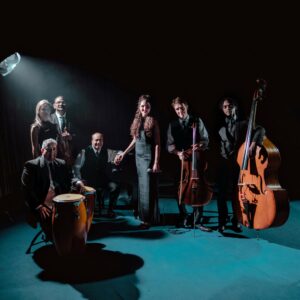 Omar Puente & Alex Wilson Quartet
This recently formed Quartet sees Omar join forces with long-time collaborator pianist and composer Alex Wilson, another award-winning artist, for a special collaboration combining their intense musical energies. The duo's on-stage dynamism is further enhanced by the addition of bass virtuoso Dimitris Christopoulos and Venezuelan percussion powerhouse Edwin Sanz.
Since appearing together on a joint billing at Glastonbury Festival in 2022 the OP & AW Quartet have amazed audiences up and down the country, including a full house at Ronnie Scott's. The project provides a unique opportunity to hear music from Omar and Alex's individual catalogues refreshingly reinvented together, each show promising to take the listener on a joyful, whirlwind journey of musical exuberance.