Anxiety-ridden, comically unaware and boiling with tension, each member of the Essinger family is painfully trying to unpick an idea of themselves from the tableau of upper-middle-class life.
Benjamin Markovits' new novel A Weekend in New York exploits the politics of the personal, the household and the state to compile a wry portrait of the way we live now.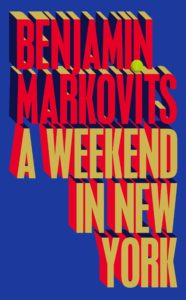 ---
Benjamin Markovits is the author of eight novels, most recently A Weekend in New York. He has also written essays, stories, poetry and reviews. In 2013 he was chosen as one of Granta's Best Young British Novelists.
Alex Clark is a literary journalist, broadcaster and artistic director of the Bath Literature Festival. She makes regular appearances on Radio 4 and is an experienced judge of literary awards.