The brilliant novelist, memoirist (Little Failure) and New Yorker writer Gary Shteyngart discusses his new book Lake Success, in conversation with Hannah MacInnes.
Barry Cohen, master of the universe, has just had a very public meltdown involving a dinner party, an insider trading investigation and a $30,000 bottle of Japanese whisky. So he flees New York City, leaving behind his beautiful young wife and son, but remembering to bring his six favourite designer watches. Zig-zagging south through Trump's America on a Greyhound Bus pilgrimage he is singularly unprepared for, Barry heads to Texas – to find his old college girlfriend and, with her, a second chance at life…
Lake Success marries the trademark Shteyngart wit with a deep emotional resonance, capturing the vivid eccentricity and contradictions of America right now, while speaking to the universal human experience of love, belonging, and the pursuit of happiness.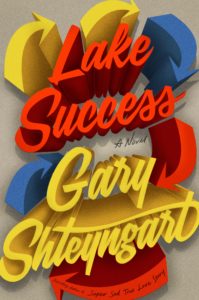 Gary Shteyngart was born in Leningrad in 1972. He is the author of the novels The Russian Debutante's Handbook, Absurdistan and Super Sad True Love Story, as well as the memoir Little Failure. He was named one of Granta's Best Young American Novelists 2007 and has won the National Jewish Book Award for Fiction and the Bollinger Everyman Wodehouse Prize. He writes regularly for the New Yorker. His new novel, Lake Success, is published by Hamish Hamilton in September 2018.