Take advantage of our Double Bill Offer.
Evolutions, 'a breath-taking race through the immense scope of time and space that is our universe,' brings to life the latest scientific thinking on the birth of the universe and the solar system, our journey from a single cell to the intricate complexities of the human mind.
Reawakening our sense of wonder and terror at the world around us and within us, Oren Harman uses modern science to create new and original mythologies.
He is in conversation with Sam Leith.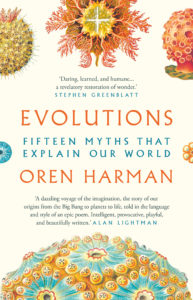 ---
Oren Harman has a doctorate from Oxford University, is the Chair of the Graduate Program in Science, Technology and Society, and a Professor of the History of Science at Bar Ilan University.
Sam Leith is literary editor at The Spectator, a columnist at The Financial Times, The Evening Standard and Prospect. His work appears in The Guardian, The Times and the TLS among others.