On the opening weekend of Scotland Unwrapped, artist Julie Brook will give a visual presentation exploring how she makes and shares large-scale sculptural works in response to each specific environment using materials found on site.
---
What is it That Will Last? offers an insight into the extraordinary work of Scottish land artist Julie Brook. Capturing the sculptures she creates in wild and inaccessible locations around the globe through film, photography and drawing, this exhibition explores Brook's deep and immersive relationship with each landscape and the natural materials she uses.
Brook will focus on the recent work she has been making on a remote coastline of the Outer Hebrides and in stone quarries in the Ishikawa prefecture of Japan that are presented by Pangolin London on the Gallery Level at King's Place along with the new publication from Lund Humphries, What is it That Will Last?
After the presentation Julie will be available for further questions, to sign books and take viewers to walk around the exhibition.
This event will last approximately 1 hour 30 minutes.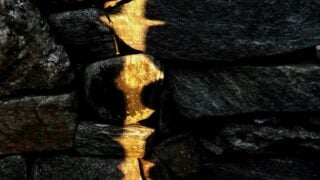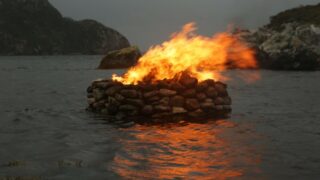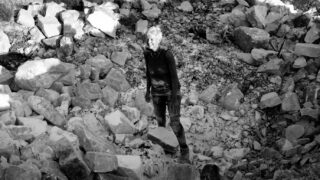 ---
About Julie Brook:
Julie Brook is a British artist who for 30 years has roamed, lived and sculpted in a succession of uninhabited and remote landscapes in North West Scotland: Hoy, Orkney; Jura, West coast; Mingulay and North Harris Outer Hebrides. Brook studied at the Ruskin School of Drawing and Fine Art, Oxford University.
She has explored the black volcanic desert of central Libya and in the Jebel Acacus mountains in South West Libya (2008/2009) and the semi-desert of NW Namibia (2011-2015) where the nature of light, shadow and structure are expressed in the sculptural forms Brook makes. More recently Brook has been working in stone quarries in Japan in relation to developing her tidal work, Firestacks in The Hebrides. The sculptural work is often transient in nature, inspired by and made from the materials of the landscape itself. Brook documents these transformations through film and photography which then become the expression of the work.
She has recently been working in the marble Quarry La Cava di Querciola in Carrara, Italy. In May 2023 Brook opened a major exhibition at Abbot Hall, Kendal, UK with Lakeland Arts ahead of her exhibition at Komatsu Museum, Japan in June. In April 2023 the publication What is it that will last? has been published by Lund Humphries to coincide with these exhibitions.