Eli Rosenbaum of the US Justice Department has been described as 'the world's most successful Nazi hunter'. However, in her new book, Reckonings, Professor Mary Fulbrook argues that the vast majority of Nazi perpetrators have evaded responsibility for their crimes.
Seventy years after the Nuremberg Trials, Joshua Rozenberg chairs a panel discussion to explore whether justice has, or could ever have, been done.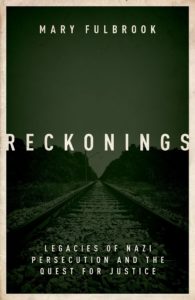 ---
Mary Fulbrook is Professor of German History at University College London and the author of the Fraenkel Prize-winning A Small Town near Auschwitz: Ordinary Nazis and the Holocaust.
Eli Rosenbaum is the longest-serving prosecutor and investigator of Nazi criminals and other perpetrators of human rights violations in world history. He is the Director of Human Rights Enforcement Strategy and Policy at the United States Department of Justice.
Philip Rubenstein was the director of the All-Party Parliamentary War Crimes Group, which campaigned successfully in the 1980s to change the law to enable the prosecution of Nazi war criminals living in the UK. He was the first director of the Holocaust Educational Trust, a former board member of the Britain-Israel Communications and Research Centre (BICOM), and is currently a trustee of the International Centre for Jewish Studies (ICJS).
Joshua Rozenberg QC is Britain's best known commentator on the law. He presents BBC Radio 4's Law in Action and writes regularly for the Law Society Gazette.
This event is sponsored by Ali and Avi Goldberg.