International bestselling author Anthony Horowitz talks about his 'infectiously zestful' novel, The Sentence is Death.
Richard Pryce is a phenomenally successful divorce lawyer, living on the edge of Hampstead Heath. When he is found murdered, the police, baffled by the strange circumstances of his death, are forced to hand the case to Private Investigator Daniel Hawthorne, who takes it on with characteristic relish. But, as Hawthorne investigates, he finds his own life is in danger…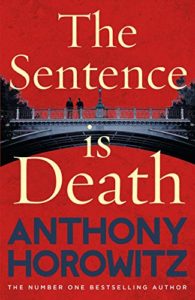 ---
Anthony Horowitz, OBE is the author of the bestselling teen spy series Alex Rider, and is also responsible for creating and writing some of the UK's most loved and successful TV series, including Midsomer Murders and Foyle's War. Anthony has also written two highly acclaimed Sherlock Holmes novels, The House of Silk and Moriarty, and two James Bond novels, Trigger Mortis and Forever and a Day. His previous thrillers, Magpie Murders and The Word Is Murder, were both Top Ten Sunday Times bestsellers. He is on the board of the Old Vic Theatre, and was awarded an OBE for his services to literature in January 2014.
Anne Sebba is a biographer, lecturer, radio presenter and former Reuters' foreign correspondent. She has written nine critically-acclaimed books, most recently Les Parisiennes.