We believe we are exceptional, but is there really anything special about humans that makes us different from other animals?
In this entertaining tour of life on Earth, scientist and broadcaster Dr Adam Rutherford's The Book of Humans: The Story of How We Became Us examines what, if anything, sets us apart in the animal kingdom.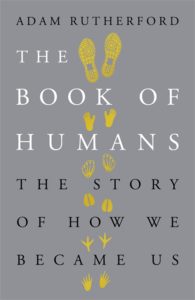 ---
Adam Rutherford is a science writer and broadcaster. He studied genetics at University College London, and during his PhD on the developing eye, he was part of a team that identified the first genetic cause of a form of childhood blindness. He has written and presented many award-winning series and programmes for the BBC, including the flagship BBC Radio 4 programme Inside Science, The Cell for BBC Four, and Playing God, as well as writing for The Observer. His first book, Creation, on the origin of life and synthetic biology, was published to outstanding reviews and was shortlisted for the Wellcome Trust Prize.
Rohan Silva, former special advisor to the UK Prime Minister and Entrepreneur-in-Residence at Index Ventures, is one of the cofounders of Second Home.
Sponsored by Robin and Hanna Klein.