Explore a collection of political tales selected and introduced by the brilliant critic and author Michael Rosen.
In the late 19th and early 20th centuries, political tales penned by both lesser-known and celebrated authors, appeared frequently in British workers' magazines. They delighted readers of all ages. In Workers' Tales, which has been described by Philip Pullman as 'a wonder-filled collection, which testifies to (…) the breadth of the human imagination but also to the enduring importance of my favourite virtue, hope', Michael Rosen brings together more than forty of the best.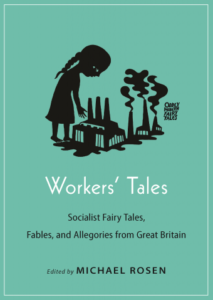 ---
Michael Rosen is a poet, broadcaster, former Children's Laureate and a recipient of one of France's top honours: Chevalier de l'Ordre des Arts et des Lettres. He has presented BBC Radio 4's Word of Mouth since 1996.
Nicolette Jones is a writer, critic and broadcaster, specialising in literary and arts journalism. She has been children's books editor of The Sunday Times for more than two decades.