International bestselling author and historian Simon Sebag Montefiore selects over 100 letters, from Rameses, Suleiman the Magnificent and Elizabeth I, to Stalin, Emmeline Pankhurst and Leonard Cohen, from ancient times to the present. He examines human strength and frailty, presenting the most intimate thoughts of visionaries, artists and great leaders.
Montefiore, a master storyteller, discusses with Tanya Gold why these letters are essential reading: how they enlighten our past, enrich the way we live now, and illuminate tomorrow.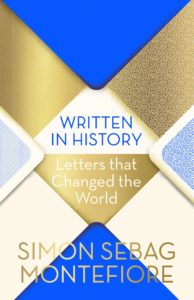 ---
Simon Sebag-Montefiore is a prize-winning historian and novelist whose bestselling books have been published in over forty-eight languages and won numerous awards. He is the author of the Moscow Trilogy of novels: Sashenka, Red Sky at Noon and One Night in Winter, which won Political Novel of the Year Prize and was longlisted for the Orwell Prize. They are being developed into a drama series. He has written and presented five series for the BBC. He read history at Cambridge University where he received his PhD, and lives in London with his wife, the novelist Santa Montefiore, and their children.
Tanya Gold is a freelance journalist and restaurant critic for The Spectator. She won a British Press Award in 2010 and a Foreign Press Association Award in 2015.
In association with Jewish Renaissance. Sponsored by David and Judy Dangoor.