For a generation now, public debate has been corroded by a narrow derision of religion in the name of an often very vaguely understood 'science'.
Bestselling author and eminent philosopher John Gray describes the rich, complex world of the atheist tradition. He sheds an extraordinary and varied light on what it is to be human and on the thinkers who have, at different times and places, battled to understand this issue. He concludes, 'There is no need to panic or despair… a godless world is as mysterious as one suffused with divinity, and the difference between the two may be less than you think.'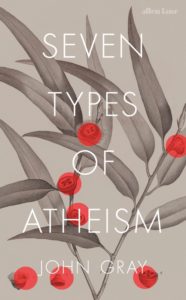 ---
Philosopher John Gray's books include Straw Dogs, Black Mass and The Silence of Animals. A second edition of his essays, Gray's Anatomy, was published in 2016. He is a regular contributor to the New Statesman.
Lady Marina Vaizey CBE is an art critic and writer. Formerly a member of the Arts Council she has curated several exhibitions. She is currently a trustee for The Musical Brain and is on the editorial board for the magazine of the V&A.