Meditation & performance
When I started my career as a musician I was a bit hyper and perhaps living off too much coffee and chocolate to see me through long practice sessions. This is not a recommended state for a musician dealing with the challenging ups and downs of a career in music.
One day, I was rehearsing with a percussionist for my first concert at Cheltenham Festival – I wanted it to go really well but was very distracted by an event in my personal life at the time. The percussionist – named Fred – suggested we do a Headspace session together (a guided meditation app). I can still remember that moment sitting on the floor and everything changing in the 10 minutes we took for the meditation. It couldn't have been 10 minutes – it felt like forever and simultaneously like no time at all.
My going-on stage ritual as the 'pre meditation me' would have been be practicing right up until the last second to be sure I was warmed up or something (more like exhausted). For this concert, Fred and I lay down and did a Headspace guided meditation again – the concert performance experience that followed was unlike any other I'd had. Often in previous performances, my mind would be racing and trying so hard to focus to get everything right, but after the meditation it felt as if my mind had been opened up, cleaned, and I felt my presence and was present whilst on stage. I loved being there. I've always enjoyed performing but this meant that I could allow myself more space to relish that special moment.
Yoga and community
When I moved to Peckham about 6 years ago, I became very involved with the yoga scene at my local studios Yogarise and Level Six. Sometimes I was practicing twice a day – I absolutely loved it, the place, the people and the sense of community. I'd sometimes go to a morning class and still be there hanging out until the afternoon, it felt like home. Thanks to yoga – I have met some wonderful people, including yoga teacher Tania Brown who will be the meditation guide for The World Meditation Day concert at Kings Place on Sunday 23 May. A lot of people I met at the Yoga studios liked the sound of coming to a classical concert, but many would tell me they "didn't know how to go to a classical concert". The way they spoke about it felt like there was some mysterious barrier – which to be honest, even at times, I have felt uncomfortable going to certain concerts. I wanted to solve this limitation and welcome people who were curious. I kept the yoga friend in mind when it came to creating 'lie down and listen'.
Collaboration with scientists
In 2017 I had a chance meeting in New York, where I was giving a concert and some talks. One day I went to the MoMA, stopping at the third floor cafe to get my gallery tour coffee fix and got chatting to the couple next to me who were also from London. Professor Sir John Strang, was the Head of Addiction at Kings College London.  We talked of a potential collaboration which I was very excited by as I'd never worked with scientists before. I soon found out scientists are some of the most creative people and that Strang is also a recorded artist! This meeting and collaboration idea evolved in to the 'Sound Mind' project which I co-led alongside Dr Sally Marlow and a varied team of artists, designers and scientists including the President of the Psychedelic society.
We tested to see if a certain combination of music heard whilst lying down concert with hypnotic fractals projected on the ceiling could have similar well-being benefits that can be the result of some hallucinogenic trips. These benefits include enhanced creativity, loss of sense of time and improved sense of wellbeing. This project was in part exploring alternatives to hallucinogenics and by no means promoted the use hallucinogens' as they can cause serious side effects. 'Sound Mind' revealed that participants had a sense of enhanced creativity and improved sense of wellbeing after the experience.
The music of Terry Riley was our starting point. Riley was a composer, curious about meditation, about using rituals and also the use of hallucinogens. His music often involves improvisation which have a particularly trance inducing effect. For the concert on Sunday 23 May the first piece you'll hear after the meditation is his Keyboard a study no.2 which is a graphic score, not originally intended for 'performance' but as a piece of music for the performer to meditate with, finding their groove and using the different patterns as mantra like motifs. When the performer is in a meditative state and creating a focused energy, this can impact the focus and environment of those present and I think it's going to be really interesting to see how this affects both audience and performers: myself and violinist Lana Trotovsek, following a group seated meditation.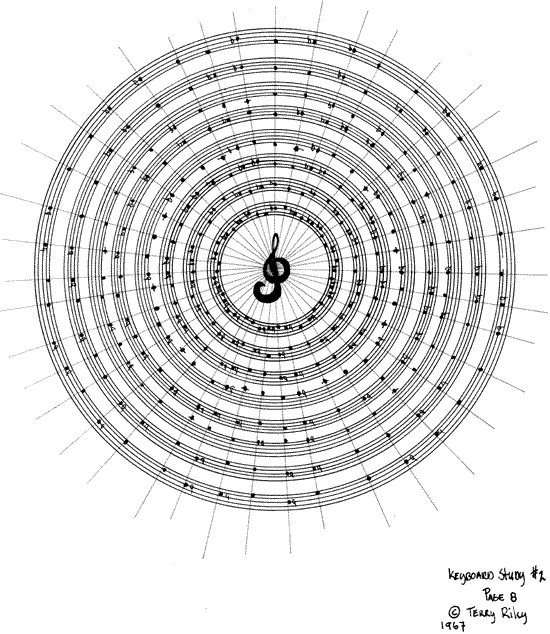 Developing 'Lie down and listen' live in person and during lockdown
Following the 'Sound Mind' project, I felt a strong pull to continue developing this project, to find further ways that people can use music and meditation rituals for accessing creativity and improved well-being. I also really wanted to bring this into concert halls. The powerful healing qualities of sound and music have been used for centuries, particularly in ancient civilisations of the Egyptians, Greeks and Indians, so why have we stopped this practice? One reason I think is our capacity to truly listen which is something I am currently exploring ways to develop for myself and others.
I began hosting a series of 'Lie down and Listen' concerts in 2018/19 in beautiful cavernous churches. The response of audiences and also performers was incredible and made me want to do more. At some we had a full choir and sometimes almost 100 people lying down and listening. Even after the music had stopped, people would stay for a long time afterwards, some hugging, others chatting and mixing with people they hadn't met before. Through the meditation, movement and deep listening whilst lying down we collectively had generated an atmosphere so special that we just didn't want to leave.
So that brings my work with music and meditation up to 2020/21 where we moved sessions online and thanks to technology, I've participated in some really wonderful collaborations including with MySatsang – a Dublin based wellness group, and a leading five rhythms teacher Lucia Horan in The Big Sur California. While these will continue is some way, I'm really looking forward to returning to in-person events and developing ways of using music and sound for healing and wellness within and outside of the concert setting.
The earliest form of yoga was not a series of postures, but the yoga of sound, 'Nada yoga', which translates to union through sound. So in a way it's an ancient tradition we're reigniting. The concert at Kings Place on Sunday 23 May will be the first time I've brought meditation into the concert hall as a pre listening ritual (and I haven't seen this done in any other concert halls yet). We'll be seated rather than lying down, but I believe the focus and ritual of joining together in meditation will create a deep focus and sense of connection. I look forward to warmly welcoming everyone and anyone who is curious, or looking for a sense of connection.