Explore Ensemble & Lotte Betts-Dean
Kurt Cobain, spatial collages and synths translated. Nicholas Moroz, Artistic Director of Explore Ensemble, talks to Helen Wallace about the rich mix of elements that make up their upcoming concert, Sensations of Tone.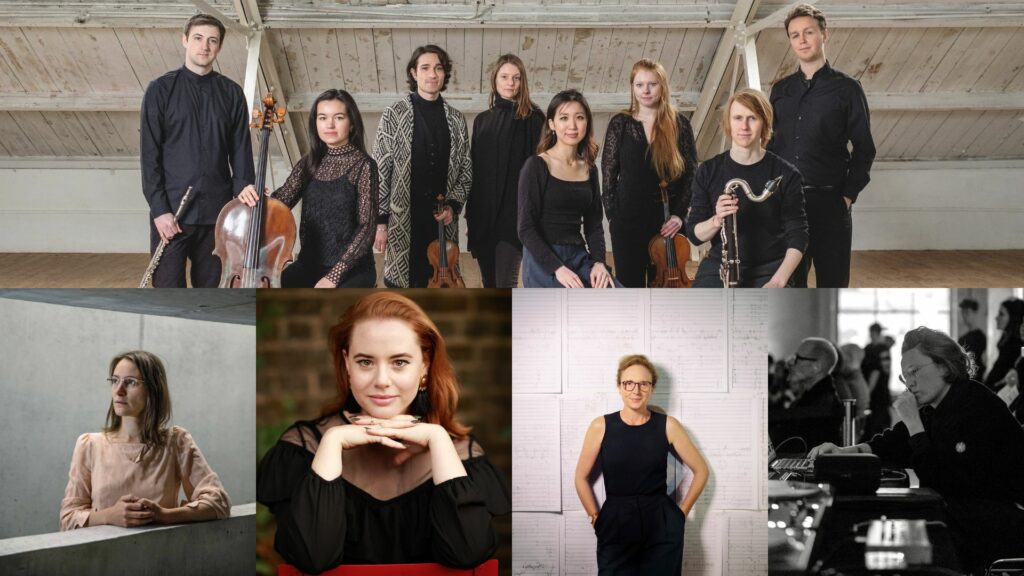 This programme is a fascinating response to the concept of Sound Unwrapped – what was your starting point?
As a composer myself who often works with electronics, I was thinking about sound as a continuum between noise and harmony. The title On sensation of tone harks back to the foundational publication by German physicist Helmholtz, which is the basis of the modern understanding of how sound, noise, and harmony all interrelate.
Hall One has such an incredible acoustic and atmosphere, and the surrounding galleries offer ample opportunities for musicians to spread out and envelope the audience, so Rebecca Saunders haunting piece murmurs, a 'spatial collage' for 9 soloists first came to mind. Its dark atonal patchwork of shadowy sounds makes it a brilliant complement to Catherine Lamb's radiant and ultra-tonal piece Parallaxis Forma.
We also wanted to bring Beatrice Dillon's new acoustic work to London for the first time. It's special to work with her, and her piece is also very much about sound itself; translating electronic sound into the acoustic realm.
'Close your eyes, and you'll hear these sounds hover over you in a phantom polyphony'
What makes Rebecca Saunders' murmurs so special for you?
It's the way the incredibly rich sonic palette completely engulfs you, since the musicians surround the audience in the space. Saunders worked very closely with the musicians of Ensemble Recherche to create this web of intimate, fragile, and expressive sounds, ranging from secretive melodies to the binaural beating of finely tuned microtonal singing bowls, deep metallic resonances, and shivering tremolo multiphonics. Close your eyes, and you'll hear these sounds hover over you in a phantom polyphony – something you can only experience in a concert hall!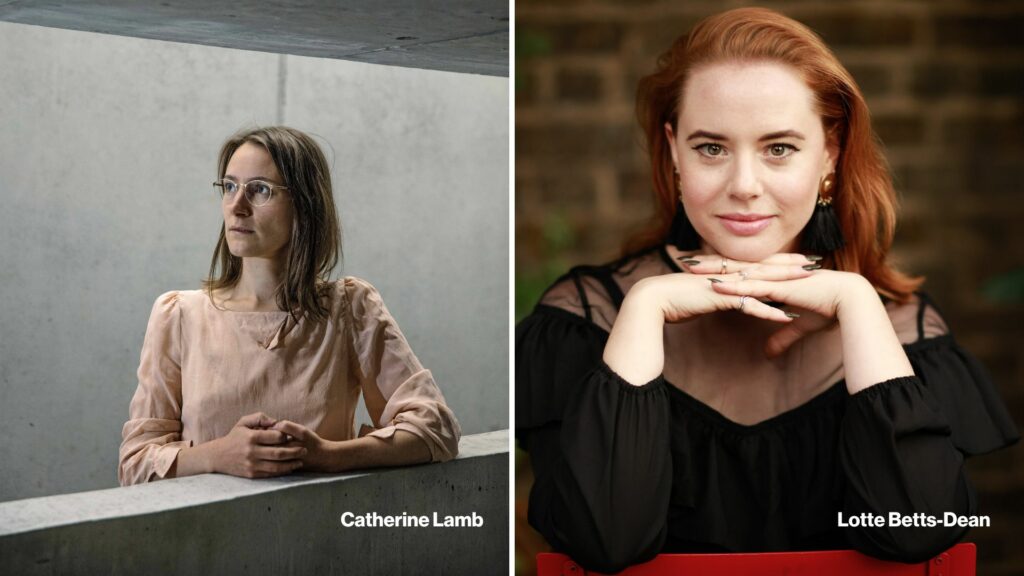 Tell us about Parallaxis Forma.
Whereas Saunders uses spatial and timbral collage, Catherine Lamb's Parallaxis Forma is about creating more unified bodies of luminous sound hewn from her unique harmonic language of just intonation (unmediated overtones). The fundamentals of the piece are very simple — voice plus harmony and resonance — but the results are rich.
Why is Lotte Betts-Dean the ideal singer for this?
Lotte Betts-Dean is both versatile and captivating as a singer. Everyone in the ensemble loves her tone and approach. When we performed the piece in Glasgow in 2021, she completely inhabited the world of Parallaxis Forma, despite the challenges it presents to those not familiar with just intonation music. There are fine shades of colour and tuning subtleties in the piece's wordless song which Lotte brings out so clearly, as well as the unusual morphing vowel sound; if you listen carefully you'll be able to hear the harmonics in her voice shimmering among the spectral harmonies.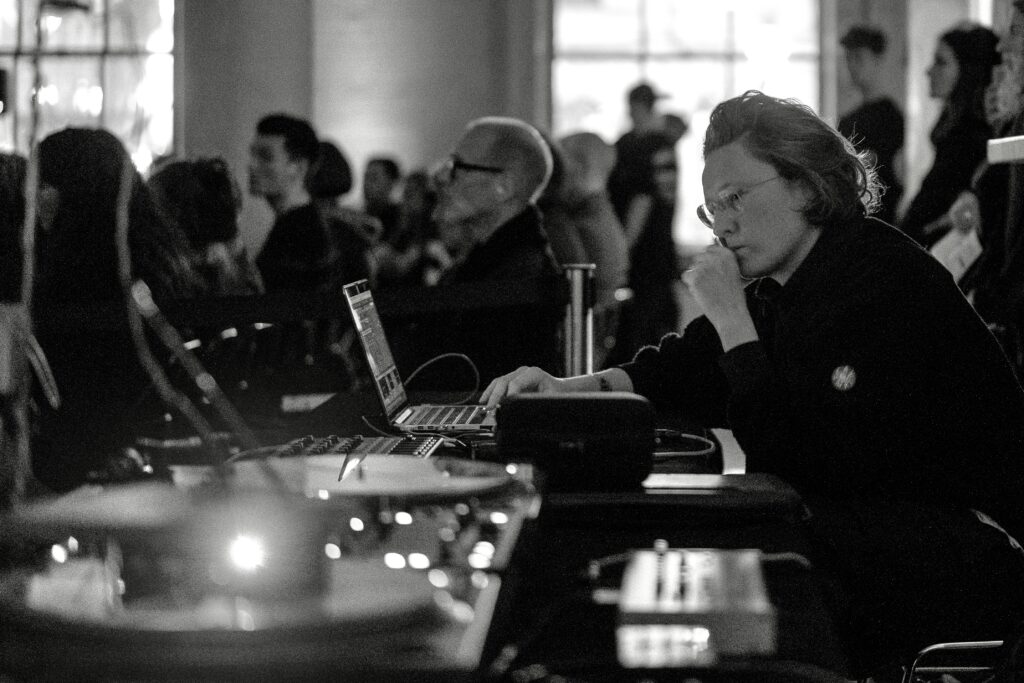 Beatrice Dillon is obviously known best as an electronic composer, how did this work for Explore come about?
Last autumn we were invited by electronic musician Mark Fell as part of an evening he curated to close the No Bounds festival in Sheffield Cathedral. The show included new works with Beatrice Dillon and Nakul Krishnamurthy. Both Nakul and Beatrice's pieces grew as collaborations with the ensemble, and our different musical and aesthetic practices. We're all big fans of Beatrice's music, and so were excited to work together to create something that took risks and explored new ground as her first entirely acoustic work.
What can we expect from Seven Reorganisations?
Beatrice's signature finely-cut sonic palette and vibrant knotty patterns like that on her Workaround album, but translated from her world of synths and generative systems into our material world with instruments: wood, metal, breath, and skin. Without giving too much away, the slower section of the piece is totally stunning in its austere beauty; something unheard in her work to date, in my opinion.
'Beatrice's signature sonic palette and vibrant knotty patterns are translated into our material world of instruments'
You open the concert with a work by Cassandra Miller, a composer with whom you've been closely involved. Tell us about her and the piece?
Each one of Cassandra's pieces is like a painting to me, perfectly contained and composed within a frame, and usually preoccupied with the execution of a single idea based on a transcription process.
For Mira is a computer-made transcription of Kurt Cobain's unplugged recording of 'Where did you sleep last night' AKA 'In the pines', an American folk song, for solo violin. Written for violinist Mira Benjamin, the piece takes the soloist through a dizzying number of shifting repeat marks overlaid on the folky transcription, creating loops of blazing energy and wild virtuosity.
'The challenge is to sustain a sense of enchantment'
What are the technical challenges of the concert?
There are always technical and practical challenges in preparing and performing new music, but the overriding challenge is to sustain a sense of enchantment.
Working on new collaborative projects is also a challenge that Explore Ensemble relishes. There are so many interesting contemporary musicians and artists who work outside the classical sphere, there's scope for common ground, it's an opportunity for everyone to expand their horizons.
What will be the rewards?
Since the pandemic we're so used to headphone listening, with this concert, I want the concert hall to feel like an expanded version of your mind – a direct connection with the music in 360!