'This album is immaculately cool' Songlines
'According to Elvis Costello, one of the film's parade of international notables, once you've heard one volume you'll want all 32. He's right.' Rotten Tomatoes
---
This year, Éthiopiques is our Saturday focus at Songlines Encounters, and we are proud to present the legendary Girma Bèyènè and French Ethio-jazz group Akalé Wubé for a special concert in Hall One, marking 21 years of the game-changing album series.
The Éthiopiques series of recordings curated by Francis Falceto has become a huge cult success. The discs have shed light on Ethiopia's musical golden age in the 1970s, but also revived the careers of veteran musicians like singer and pianist Girma Bèyènè who was a star back then. He's featured on the 30th album in the series, Mistakes on Purpose, backed by the young French Ethio jazz band Akalé Wubé. Revisiting many of his old hits, they create an unforgettable celebration of Ethiopia's musical soul.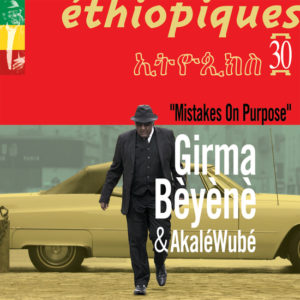 The concert is preceded by the brilliant Revolt of the Soul film which tells the story of Girma, Francis Falceto and Ethiopia's musical golden age.
Take advantage of our Saturday Festival Pass.